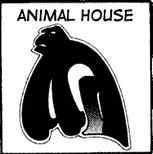 Animal House is a team whose members dress up as apes. They defeat the handicapped Kogarasumaru, and become well known because of it (chapter 109). Om later sneaks onto their team during a rematch and wipes out the members. Kogarasumaru, with Benkei in as a substitute, defeats Om and wins the battle (battle begins at chapter 122). The team is not seen later.
Some of the teams members include: Angola, Madagas, Kiliman and Sahara.
Ad blocker interference detected!
Wikia is a free-to-use site that makes money from advertising. We have a modified experience for viewers using ad blockers

Wikia is not accessible if you've made further modifications. Remove the custom ad blocker rule(s) and the page will load as expected.