This site contains spoilers about the Air Gear manga and anime series by Oh!Great, read at your own risk.
We are currently editing over 252 articles, and you can help.

About this wiki | New pages | Fan Wiki (anyone's welcome) | New files | Active users | Administrators | Community forums | Categories | Wiki tutorial | Help pages
Need something to do?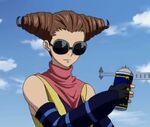 Ine Makigami (巻貝イネ, Makigami Ine?) was the first Pledge Queen of Tool Toul To and of the original Sleeping Forest. She is also knowledgeable in medicine and runs her own hospital.
Ine Makigami was Spitfire's tuner in their days in Sleeping Forest. Though none of the Gravity Children require tuners as the regalia were made specifically for them, Spitfire still had a close relationship with her before his death (it is hinted at but never confirmed that they had a romantic relationship). When the original Sleeping Forest splintered into two factions, Ine decided to remain neutral, as she saw both sides as her friends. (Read More...)

Spring Season 2018 Anime Wikis

TV Anime

Multiseason

TV Shorts

Movies

OVA / ONA / Special